Image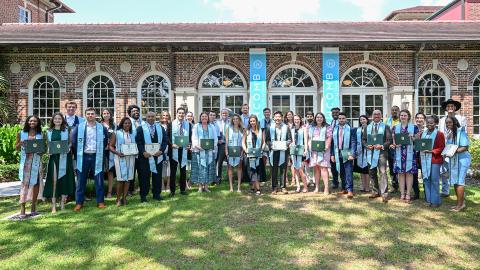 The Tulane 34 Awards are presented annually to some of Tulane University's most outstanding graduates. Named to honor Tulane's beginning in 1834, the prestigious award recognizes 34 students, from across all of the university's schools, who exemplify Tulane values.
Among the most coveted of university-wide honors that a graduate can receive, the award celebrates those graduates who have distinguished themselves throughout their collegiate life at Tulane. Each student who receives the award has demonstrated exemplary leadership, service, and academic excellence during their time at Tulane.
Read more about the 2023 Tulane 34 Awards here.
Class of 2023 Recipients [PDF Program]
Leah Bohatch
Gabrielle Boissoneau
Isabel Braverman
Ava Bush
Brendan Carter
Joshua Copeland
Keenan Cotton
Whitney Davis
Ava Davis
Sarah Frances
Kiera Galloway
Karen Huang
Geeta Jhangiani
Swathi Katakam
Jordan Kirsh-Clemenceau
Anna Lejeune
Marc Lyons
Alejandra Marks
Dahlia Michael 
Marcus Moses
Sofia Pedrelli
Clarke Perkins
Thu Phan
Isabelle Ramras
Aaliyah Randall
Aneeka Ratnayake
Ivy Robinson
Darren Rutledge
Arianne Sacramento
Joni Schultz
Khamani Williamson
Lahari Yelamanchilli
Kendall Zenk
Yichi Zhang
Class of 2022 Recipients
Raven Ancar
Abimisola Anibaba
Mia Blom
Zachary Braaten
Sorrell Brown
Michaela Brown
Xavier Calfee
Meredith Clement
Lilyon Conroy
Suzanna Craig
Kathryn Elder
Michael Frantzen
Zach Geduld
Blake Geisler
Sergio Ingato
Hannah Kaufman
Feroz Khan
Nathan Kim
Nicole LaCour
Russell Ledet
Sydnie Lesser
Asis Lopez
Lloyd Lyons
Grayson McCall
Reagan McKinney
Elizabeth Mendels
Antonio Milton
Tatiana Poggi
Tara Reza
Bailey Ross
Emma Schreier
Westley Sturhan
Elizabeth Tierney
Daniel Triggs
Class of 2021 Recipients
Jillian Baggett
Alexandra Bryan
Aalyiah Butler
Katherine Cartiglia
Noel Castillo
Jesse Chanin
Katherine Chapin
Jayde Encalade
Tonye Fohsta-Lynch
Jordan Fontheim
Stephen Hahn
Derick Houston
Ingeborg Hyde
Mary Alice Juengling
Addison Kleinpeter
Keagan Krauss
Abigail Larkin
Tony Massarello
Jacob McCarty
Ciera McIntosh
Karina Mederos
Tia Monjure
Paige Montfort
Reagan Orloff
Anusha Rahman
Alexander Razavi
Laura Scott
Matthew Shernicoff
Brandon Sprague
Kayla Street
Stefan Suazo
Ashley Vellucci
Matthew Weintraub
Maddison Wells
Class of 2020 Recipients
Lauren Marie Andress
Hunter L. Bohlen
Tessa Marie Curry
Zoe Diaz-Martin
Eva Dils
Lauren Gaines
Kendall Madison Gardner
Kansas Guidry
Musa Guillerman
Molly Gummersheimer
Ryan Herrschaft
Olivia Rose Johnson
Zachary Kanzler
Hannah Lafrance
Michael Joseph Lauth
Jackson Taylor Levine
Lilian Maldonado-Garcia
Julianna Martel
Abi Mbaye (also received in 2019)
Olivia Mertensmeyer
Dyllan Muller
Rebekah Oviatt
Ashton Pallitto
Shalini Persaud
Jenna Raden
Emma Lillian Rogers
Gabriella St. Angela
Lucy Satzewich
Michael Stephen Sepcich Jr.
Isabella Me'l Smith
Joseph Sotile
John Woodard
Juharah Worku
Stephanie Yaxin Zhao
Class of 2019 Recipients
Temitope Celestina Akintimehin
Erin Blake
Cheruba Sophia Chave
Hannah Amsterdam Cohen
Angela Crist
Semaj Crumpton
Neal Dixit
Nicholas Fears
Michael Garcia
Andrea Goldstein
Malcolm Grba
Corey B. Guerra
Emma Hawke
Sophia Kalashnikova Horowitz
Anais M. Jaccard
Tyler Jarrett
Austin Taylor Jones
Gillian King-Bailey
Eric Lane
Analisa "Sesa" Salinas Leavoy
Nathan Leonard
Abi Mbaye
Max A. Meyer
Erin Morrissey
Anfernee Marquis Murray
Claire Namboodri
Nathan Nguyen
Krishna Pandya
Khyati "Kathy" Rai
Afsheen Sajjad
Alyssa Shinto
William Cheeming Wei
Kelsey Williams
Radha Yerramilli